If you like pizza, you will love homemade focaccia bread and when you see how easy it is to make it, you will wonder why you never thought of making it before. Since we began the confinement, we have been making it almost every week. Every time changing the toppings depending on the mood and what we had in the refrigerator! This way, you don't need to buy bread. It makes a great snack, you can slice it in half to make grilled sandwiches, serve it with a nice salad, or dip it in your favorite soup…
A little background…
Focaccia is said to have originated with the Etruscans but it is commonly associated with the Italian region called Liguria (the part of Italy on the mediterranean sea that borders France). This baked flatbread is traditionally made with sprigs of rosemary and salt but if you travel to the region you will discover so many varieties depending on which town or hamlet you visit. It is very much like salsa in Mexico, there are as many recipes as there are regions! One of my favorite way of making it is with thick fresh tomato sauce, garlic, and capers. You can also use a combination of wild mushrooms and truffle oil, you name it, you cannot go wrong, it all works. You can even make a sweet version by omitting the salt, add some sugar, raisins,
I like to prepare my focaccia in the afternoon because it has to rest twice. Once for an hour and the second time for half an hour. No worry, you will be using that time to prepare the toppings and heat up the oven.
So first, take 2 cups of warm water and 1 tbsp of sugar and mix to dissolve the sugar. Then add 1 tbsp of yeast. Mix again and set aside for 10-15 minutes or until it has doubled. Add 2 tbsp of olive oil and gently mix.
Note: if your yeast liquid doesn't foam or expand, it means that it isn't good anymore. It can happen. Toss and buy a new batch. If you use it (I have done it) you will end up with a thick cracker-like bread that is kind of tough! Make sure to keep your yeast in a dark cool area and in an airtight container.
In a large bowl, measure 4.5 cups of all-purpose flour, 1 tbsp sea salt, 1 tbsp garlic powder. Whisk around to mix everything. Make a well and pour the yeast liquid in the center. Using a spatula at first, gently mix the flour into the liquid. When most of the liquid has been absorbed, using your hands, start kneading your dough for 2-3 minutes.
Once you feel the dough is fairly smooth (you may need to sprinkle a little flour in the process), oil a bowl with some olive oil. Place the dough inside, move it around the bowl so that all sides of the dough are lightly oiled, and cover with a clean kitchen towel.
Set a timer for 1 hour. You do not want to let it rise longer because you risk losing the fluffiness and reducing the thickness of your flatbread. But if you want a thinner bread by all mean add another 10 minutes!
While the dough is rising, you can prepare the herbs or sauce you will place on top. I love to use my favorite tomato sauce, some capers, lots of garlic cloves, fresh rosemary… I also take a baking sheet and place a silicone baking mat so that I don't have to use parchment paper.
Once the hour is over, you will notice that the dough has more than doubled. Wash your hands and dry them. Press on the dough to release some of the air. Next, you will hold the dough and gently stretch it (no need to spin it over your head like a pizza!) Have the baking tray nearby and as you being to have a flatter dough, place it down onto the sheet and gently press down from the center towards the edge until you have no lumps and a pretty even surface. The dough may pull back a little, just push it back until it holds and fills the whole tray.
Now you can add the toppings. I used about 2 cups of tomato sauce and spread it evenly, added fresh slivers of garlic so that there is one in every square, generously dot with capers, fresh rosemary, or oregano and finish with a few pinches of sea salt. You can also make one-half plain and the other with tomato sauce. This way you have bread and pizza in the same batch.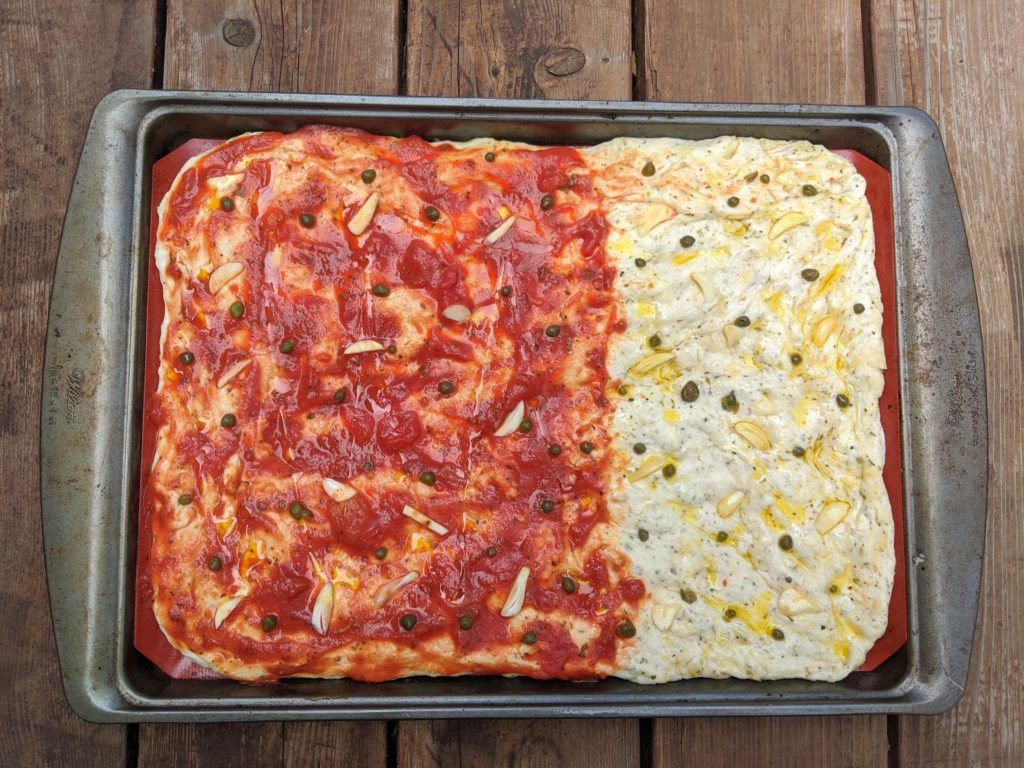 Once you have everything, set it aside for 15-20 minutes and set a timer. Turn the oven on to 425 F. When the 20 minutes are over, you should see a slight expansion of your uncooked focaccia and it is time to put it in the oven. Bake for 20 minutes until the bottom is hard and the top is still soft.
What is so nice about focaccia bread is that the bottom is crispy, the middle is bready and the top is soft because of the tomato sauce and all the goodies on top. I like to drizzle some extra virgin olive oil before serving. It goes great with any salad as is, or cut in half for sandwiches. As an appetizer, cut it in small squares. You can also serve it with a nice bowl of homemade gazpacho.
There you have it. Even our Mollie loved it!

So let me know how it turned out and if you have some other variations you like.