Hasselback potatoes is a fun way to transform a boring looking potato into an elegant dish that looks like it is coming out of a professional kitchen! The trick with this dish is to cut thin slices leaving the bottom connected, creating a beautiful fan effect. They are crispy on the outside and soft on the inside. Each slice is caramelized and baked in a mix of fresh and dried herbs.
Hasselback potatoes was invented in the 1940's in a Swedish restaurant called Hasselbacken! It is usually served as a side dish for meat but since we don't partake in animal suffering, I prefer serving them with a rich red pepper sauce (similar to Muhammara) that is loaded with plant-based protein. So Sweden meets Middle East in this dish.
Which potato is best
You can use Russet potatoes (starchy), or Yukon or red potatoes (waxy). I prefer the later ones because they are plumper and creamier. Leave the skin if it is thin, just give them a good scrub. In terms of herbs, a mix of garlic, rosemary, salt and pepper mixed with olive oil and vegan butter is all you need. You can add smoke paprika, cayenne if you want a little heat.
Making the cuts
The trick is to use 2 chopsticks placed on both sides of the potato. Using a sharp knife, make cuts until you hit the chopsticks and stop. This allows you to make thin slices and keep the bottom connected.  This creates a natural fan effect. If you want to make it even more sophisticated, you can flip the potato over after having made the vertical cuts and start making diagonal cuts. But you need to be careful to only cut on the section that hasn't been cut.  It is fun to practice and makes a beautiful pattern. I learned this with cucumbers but it can be done with potatoes.
To peel or not to peel that is the question
I peeled my russet potatoes because the skin was a little tough but you can leave it too. Yukon potatoes have thin soft skins no need to peel. I used sweet potatoes and left the skin because the flesh is softer than potato and it worked  beautifully.
Baking the potatoes
Once you have brushed the herb butter/oil all over the potatoes making sure that some reaches inside the slices, you are ready t0 bake them. Most of the time preparing the dish is the baking time: 45-50 minutes at 425 F.
Roasted Red pepper sauce
This sauce is thick and rich and adds the protein to complete the dish. You can use red or orange bell peppers that have been roasted for 35 minutes.
Peel the skin and set aside.
In a food processor, add the roasted peppers, some white cannellini beans
olive oil, walnuts, panko breadcrumbs, a little sweetener like agave or maple syrup, some spices like cumin, chili, Garlic powder
Blend until lightly creamy. Top with fresh parsley and a drizzle of olive oil
Tips for best results
– Be generous brushing the oil with spices.
– Half way through the baking time, flip the potatoes and brush again.
– Don't bake the day before because the potatoes will dry out and become too firm.
– Additional toppings include sliced green onions, vegan cheese, bacon.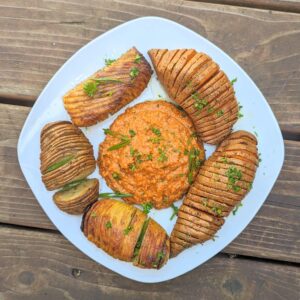 Hasselback Potatoes with Roasted Red Pepper Sauce
Transform simple potatoes into beautifully carved and perfectly baked potatoes served with a rich roasted pepper sauce
Equipment
Sharp knife

2 chopsticks

Lined baking sheet

silicone brush
Ingredients
Red Pepper Sauce
2

red or orange bell peppers

1

cup

cannellini beans

1/2

cup

walnuts

2

tbsp

olive oil

1

tbsp

fresh lemon juice

1

tbsp

agave or maple syrup

1/2

tsp

cumin powder

1

tsp

garlic powder

1/2

tsp

cayenne pepper

1

cup

fresh minced parsley
Potatoes
6

medium potatoes (Yukon, Russets)

2

tbsp

olive oil

2

tbsp

vegan butter

1

tsp

garlic powder

1

tsp

minced dried rosemary

1

tsp

salt

1

tsp

paprika (sweet or smoked)

1/2

tsp

cayenne powder
Spiced oil
3

tbsp

olive oil

1

tsp

salt

1

tsp

garlic powder

1

tsp

paprika

1

tsp

rosemary

1

tsp

cumin powder

1/2

tsp

cayenne powder
Instructions
Prepare the pepper sauce
Preheat the oven to 425F.

Remove the top of the peppers, and the core. Cut 3-4 sections and place on a lined baking sheet.

Brush a little oil and sprinkle some salt.

Bake for 45-50 minutes at 425 F.

Remove from oven and cover with a lid for a few minutes. This will help removing the skin.

Remove the skins, and set aside.

In a blender or food processor, add the roasted red or orange peppers, the rinsed white beans, olive oil, walnuts, sweetener, cumin, chili, garlic powder, salt and breadcrumbs.

Pulse until all the ingredients are blended. Taste and season.
Prepare the potatoes
Wash or scrub the potatoes.

Place 2 chopsticks on either side of the potato and start making thin vertical slices leaving the bottom connected.

Place each potato on a lined baking sheet
Prepare the spiced oil
Heat up the oil with the cumin, cayenne, garlic powder, salt.
Putting it together
Generously brush the potatoes with the spiced oil making sure that some gets in the slices and on the bottom.

Bake for 35 minutes. Flip the potatoes, brush again and bake for another 20 minutes.

Sprinkle the fresh parsley and serve hot with the roasted pepper sauce.